A Workshop on Outcome-based Curriculum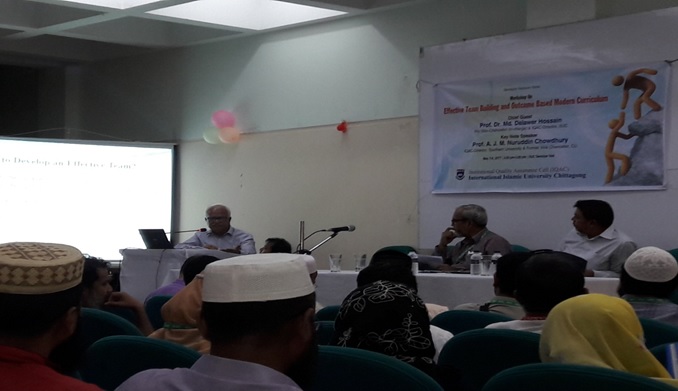 A Workshop on "Outcome-based Curriculum" was conducted by Professor AJM Nuruddin Chowdhury, former Vice-Chancellor, Chittagong University & Director of IQAC, Southern University Bangladesh. The workshop was attended by the Deans, the Heads of Departments, the Chairmen of Departmental Exam Committees, and the Coordinators and Members of Departmental Self Assessment Committees (DSACs) at IIUC. Prof. Dr. Md. Delawer Hossain, Pro Vice-Chancellor of IIUC, was the chief guest of the program. The chief guest in his speech emphasized the issue of Continuous Quality Improvement (CQI) by referring to the self improvement for each faculty members. He also stressed on the clear understanding the mission, the vision, and the objective of IIUC. Finally, he urged the faculty members to develop the culture of Continuous Quality Improvement (CQI) for quality education at IIUC.
In this workshop, the speaker discussed on the Outcome Based Curriculum by enlightening the Bloom's Taxonomy of Learning and the issues related to Outcome Based Curriculum such as; 1. Program Level Outcome-Based Curriculum, 2. Lesson Plan & its Format, 3. How to Making Creative Questions etc. After the presentation, a discussion session was held where number of participants took part and expressed their views on the issues related to the workshop. The program presided over by Prof. Dr. Abdul Hamid Chowdhury, Dean of the Faculty of Business Studies.