A special session on Functions of Examination Committee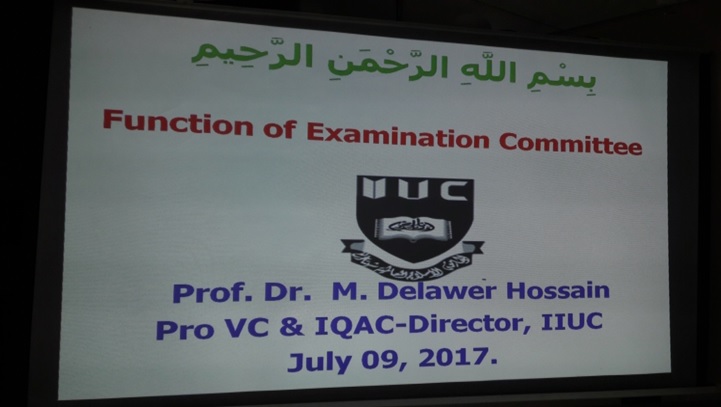 A special session on "Functions of Examination Committee" organized on July 09, 2017. Prof. Dr. Md. Delawer Hossain, hon'ble Pro Vice-Chancellor & IQAC Director, IIUC, conducted the session and it was attended by the members of the departmental examination committees, the Heads, the Deans, the Registrar and the Controller of Exams. The IQAC-Director delivered a power point presentation by elaborating in detailthe scope, major functions of the examination committees and preservation of relevant documents (e. 22 specified documents) at the departmental offices.
During the discussion, hon'ble Pro VC highlighted the issues such as maintaining the secrecy of the relevant matters on exams, effectiveness in moderation process, final preparation of the question papers as per IQAC standards (i.e. Higher Oder Learning), monitoring for smooth conduction of the exams and submission of mark-sheets within the scheduled date etc. The speaker also pointed out other relevant issues of Exams: such as the process of Re-Evaluation of Result, Correction of marks and Policy for Re-admission etc. After the presentation of hon'ble IQAC-Director, an open discussion was held where a number of queries of the participants were clarified by the speaker.