A Training Program was organized by the IQAC & SDSWD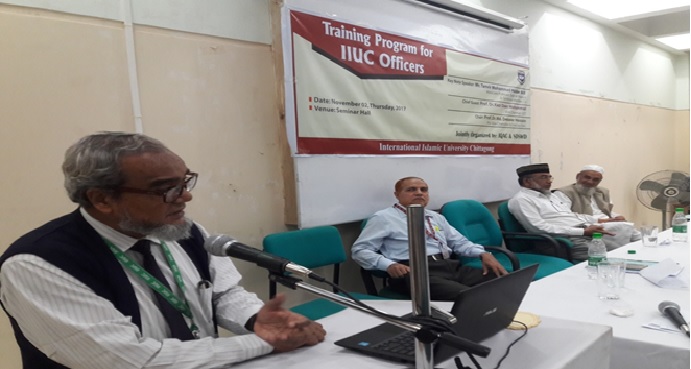 A Training Program was organized by the IQAC & SDSWD on November 02, 2017 at IIUC Seminar Hall. Mr. Tanvir Mohammad Haider Arif , Associate Professor, Dept. of Finance, Chittagong University, Bangladesh was the key-note speaker. All the Divisional Heads and officers down to Administrative officers were present in the training program. Professor Dr.Kazi Deen Mohahmed ,Vice Chairman BoT was the Chief Guest. The Chief Guest mentioned that we are living in an academic community, where students are the principal stakeholders. Every one of you should take proper steps to mitigate their problems and complains as early as possible.
Mr. Tanvir, spoke on the very basic issues on office management, dealings and responsibilities. In the training program Colonel Md. Quasem. PSC (Retd), the Registrar IIUC also discussed about office-discipline and service rules of IIUC. The training program was presided over by Prof. Dr. M. Delawer Hossain, Hon'ble Pro-VC and Director-IQAC. In his speech he urges the officers to do self-assessment and to be more self conscious for continuous quality improvement.